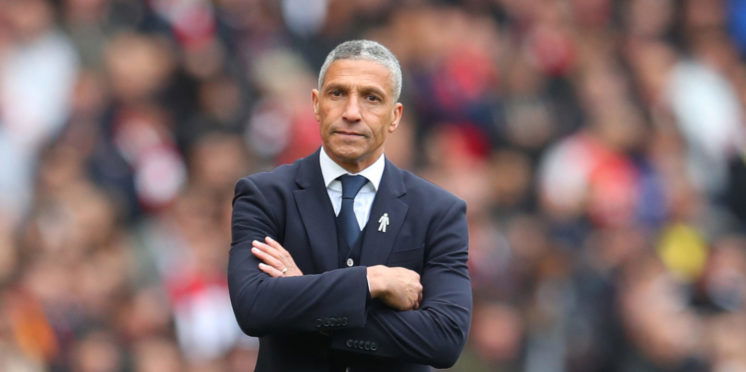 Chris Hughton, Graham Potter and the farce of 'be careful what you wish for'
After one of the worst endings to a season in recent memory, Brighton opted to part company with Chris Hughton. The Irishman turned the club from a two-time play-off loser in the Championship to an automatic promotion level team. He did this by building on a solid spine, and playing high-volume crossing football when they reached the final third.
Brighton's first campaign was promising. They were built on a terrific home record and found the right blend of solidity with Lewis Dunk and Shane Duffy, and the potentially unpredictable final third play led by Pascal Gross with the same aim of finding Glenn Murray inside the box.
They attempted to push on by spending in the summer transfer window. Alireza Jahanbakhsh was one of the hottest names on the market after a double-figure goals-assists season with AZ Alkmaar. He arrived for just south of £20 million, with Brighton beating bigger clubs to his signature. Yves Bissouma also joined for £15 million, and Brazilian full-back Bernardo, former Barcelona man Martin Montoya and Romanian poacher Florin Andone were all bought for fees approaching £10 million.
Brighton expected to kick on this year, and rightfully so. They kept the spine pretty much the same and added a box to box midfielder, a goalscoring inside forward and another striker to rotate with Glenn Murray. The Seagulls showed few signs of improvement, though, and won just three of their last 23 games. Combined with the turgid and predictable football that was on display, Brighton owner Tony Bloom opted to change things up. Hughton was replaced by Graham Potter the day after the season ended.
The Hughton situation is complicated because there is a legitimate argument that he was sacked for the mistakes of others. As Paul Hayward noted in his piece on the sacking, Hughton was not in charge of transfers, the recruitment team was. Chris Sutton of the Daily Mail reinforces this, saying the boss had 'limited say' in the dealings.
On the surface, Brighton's signings simply did not play well. Jahanbakhsh didn't record a single goal or assist in Premier League play. Montoya and Bernardo were solid, but they were hardly the game-changing attacking full-backs you need in order to crack the top half. Bissouma showed promise, but not enough to really move the needle for the team.
Many are looking at this situation and simply saying that just because Hughton didn't make these signings, he is absolved of any blame for their level of performance. This is where I have disagreed hugely with the post-sacking analysis surrounding Brighton. The job of any modern manager is to coach the players given to him. Sure, there needs to be more of a connection than there clearly was at Brighton, but Hughton's rigid 4-3-3 and 4-4-1-1 systems were not making things easy for the new signings.
Management is not about having a rigid system and only buying players to fit it anymore. There are, of course, some limitations to this argument. Chris Wilder is not going to sign wingers for Sheffield United as he only plays a 3-4-1-2, but there is a middle ground somewhere. Unfortunately for Brighton fans, Chris Hughton failed to find the middle ground and paid the price.
Hughton is a good manager. He will not be out of a job for very long, and any Championship club that appoints him will see their odds for promotion shorten very quickly. But three wins in 23 is not good enough.
Brighton were a defensive-minded team who offered very little creativity or anything different in the final third. Their plan of overloading the wide areas and trying to find Glenn Murray at the back post got old quickly. Their personnel usage was also quite predictable. If Murray was up front, you knew they were going long; if Andone was up front, you knew they were going to play on the break and attack you with through balls.
Brighton's system was very grid-like. They passed it around the edge of the box and always looked to go wide. The striker was instructed to just wait in the box for the ball. This meant Brighton often lacked a threat in behind, despite having players who would have been able to provide this. Hughton is good at what he does, but he has a clear limitation. Hyping a man who got 10 points from a possible 51 to end his final year in charge of Brighton is very odd. He's has displayed his restrictions in his past three stints in the Premier League. Not everyone can be Pep Guardiola or Johan Cruyff, but the English media need to stop lauding him as anything more than a solid mid-table manager, especially without watching the games and looking at context.
Alireza Jahanbakhsh burst onto the European scene with Alkmaar as an inside forward on a 4-3-3 formation. He was given the ball in advanced positions and often arrived late at the back post to score goals. He was given the licence to run in behind, and troubled teams with his pace and movement. In Hughton's system, the role of the wide players is very different. He prefers 'wide midfielders' to inside forwards. This means that the midfielders are often given the ball from deeper positions, and are expected to hold their position in the wide areas. Essentially, they are there to whip in crosses and advance the ball with dribbling from deep positions.
Jahanbakhsh felt wasted and misused in this system. How can you take a goalscoring winger and make him resort to lumping crosses in towards Glenn Murray? It was a complete waste of time and money. It's no wonder Hughton leaned more towards Solly March and Anthony Knockaert; they are most certainly less talented than the Iranian, but they fitted the one-dimensional wide player role in Hughton's tactics.
When Brighton's recruitment team beat out clubs across Europe to sign a player on the back of a historic year for a winger in Holland, they expected Hughton to be able to integrate him into a system. Modern managers can fit different types of players into their system. Hughton's system is what it is. There is very little flexibility. He wants a tall striker, defensive-minded full backs, wide midfielders and a number 10 who has to pretty much do all of the creating.
Going from Chris Hughton to Graham Potter is perhaps the biggest change I've seen a Premier League club make in recent years. If Hughton played Football Manager, he'd opt for the 'very rigid' philosophy. Potter would opt for the 'very fluid' philosophy. Hughton plays people in their fixed positions, whereas Potter looks at footballers as 'players' as opposed to being restricted to their certain roles.
This was perhaps best illustrated in Swansea's 3-0 victory over Brentford in April. They had multiple starting centre-backs out, but instead of crowbarring a defender there, he moved Matt Grimes into the back four. Grimes was one of the architects of their build-up play and had played most of the campaign as a central midfielder, but Potter was comfortable enough in his system over the rigid classification of players to move a midfielder into the back four against a very potent Brentford team. Hughton would never have done this.
It is for this reason, though, that I do have some slight concerns about Potter's immediate fit. This is a team that has been used to playing a defence-first philosophy. Only Newcastle and Burnley played more long balls forward, and Brighton attempted the fourth-fewest short passes per game this season. Their players are good, and they are organised. But this is a major philosophy switch. The likes of Lewis Dunk and Shane Duffy cannot simply just be good defenders anymore; they'll have to be good footballers. A lot of Dan Ashworth's hope for this transition lies in the fact that Potter has proven he can maximise squads that look weak on paper. This is perhaps his toughest test yet, as he has to change the style completely without the ability to justify a squad overhaul. He has to also sell positionless football to a side that has arguably been the most rigid in the Premier League over the last two seasons.
Potter has a chance to make life a lot easier for these attacking players, though. Alireza Jahanbakhsh could potentially bounce back. At Swansea, Potter experimented with a lot of formations, but regardless of the one he played, the forwards were interchangeable. Oliver McBurnie had a great year and received a lot of high-percentage opportunities. Part of this was because Potter moved him around the front four, rotating him with players such as Wayne Routledge and Nathan Dyer in a fluid shape. Brighton were the most predictable team in the Premier League last year. Their passing patterns were basically from the centre-back to the midfielder to the winger, followed by a cross into the striker who was not allowed to drop deep and link up at all. This meant everyone apart from Glenn Murray stagnated. To put it simply, opponents knew exactly what to expect when facing Brighton. This won't be the case under Potter, who rotates his front four positionally to keep the opponent guessing.
Brighton's midfield could also change for the better, notably in terms of Davy Propper's performance. From interacting with some Brighton fans, they felt that Propper didn't show his true ability on a consistent basis in the past season. I would make the argument that the reason for this was Hughton's system. Brighton's build-up and final third output were almost all flank related. Propper's job was to sit deep and just pass the ball into the wide areas. Potter will potentially try and give him more creative responsibility – something which was almost all given to Pascal Gross over the last two seasons.
As always when a team makes a managerial change, there have been the usual 'be careful what you wish for' crowd making their yearly appearance. Brighton won three of their last 23 games and had Cardiff not been robbed at home to Chelsea, things could have been very different for their survival hopes. They were embarrassed by the likes of the Bluebirds and Bournemouth in front of their own fans. It's rather boring when condescending fans of top teams tell fans of lower teams whether it's acceptable for them to want their manager out. Hughton did a lot of good for Brighton; he's the best manager they've had for years. But fans have a right to want the club to try and kick on with a new style. Wanting a managerial change does not make these supporters ungrateful. They have probably looked at the stagnation of teams like Stoke who kept hold of Mark Hughes for too long as an example that holding on to someone out of nothing more than emotion is stupid.
Who are we to tell Brighton fans what they are and aren't allowed to feel? They're the ones who go every week; the average football fan probably catches less than five Brighton games per year. They had clear problems this year, especially tactically. It's frustrating that the media has completely overlooked this due to being blinded by this ridiculous idea that British managers are some sort of hunted and persecuted species in the game of football. Critiquing Hughton's final season does not make you disrespectful or someone who is suffering from memory loss. He did an admirable job, but it is acceptable for fans to want change, and I think they have a very strong case given what they were subjected to for the second half of the year. Brighton were second to last in expected goals. While some don't like this statistic, what it does show is that Brighton struggled to create chances on a regular basis. Given the fact their system was so rigid and inflexible, this is not surprising.
Graham Potter has a philosophy that could land him an elite job one day. He thinks uniquely. He doesn't categorise players by positions, he believes in a fluid philosophy where players can pop up in dozens of areas of the pitch in any given game. At a minimum, it's going to be very exciting to watch Graham Potter try and implement his philosophy on this group of players. But given how a lot of them have been forced to play in the last two years, it could be a lengthy adaptation process. It's good to see a progressive British manager for once, though, and I hope he succeeds, even to just shut up the tiring 'be careful what you wish for' crowd who taint football analysis in this country.
---