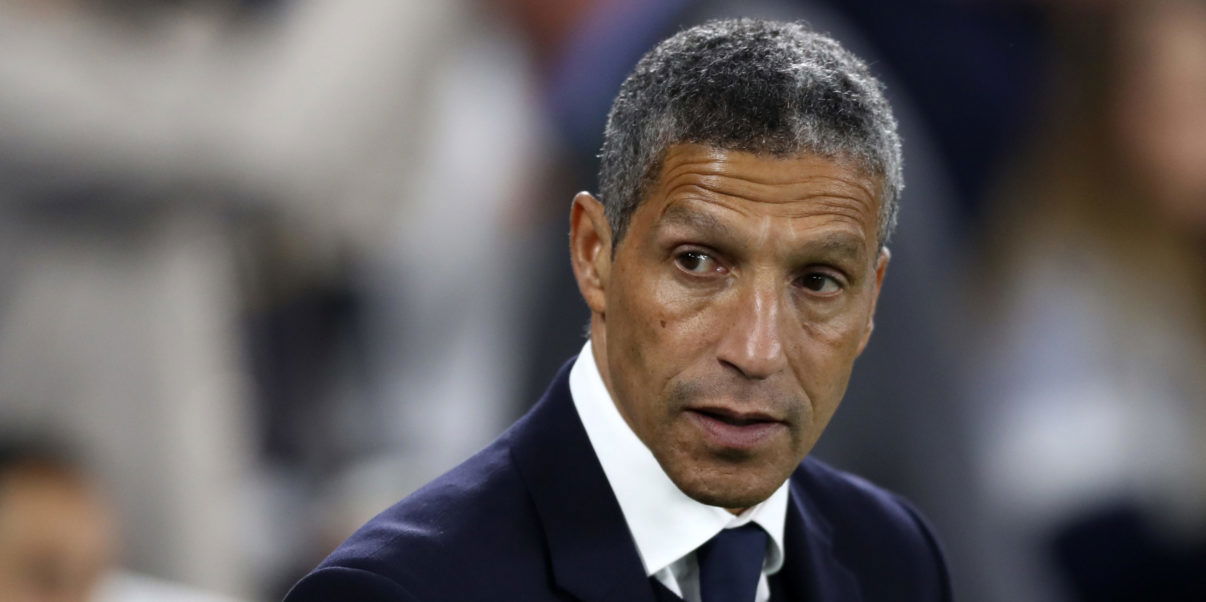 Why it could be time for Hughton to end his love affair with 4-4-1-1
Of all the surprising and delightful revelations last year brought, arguably the best was the dazzling form of Pascal Gross. The German arrived from Ingolstadt to relatively quiet fanfare for around £3m, under the blanket of cover provided by the big money arrivals of Propper and Izquierdo, but went on to become Albion's Player of the Season, and turn heads all across the country. Noted in particular for his incredibly strong work-rate, and his impressive goal and assist statistics, the German proved to be the catalyst to Brighton's success in 17/18, thriving in a second striker role just off Glenn Murray in a 4-4-1-1 formation. Why, then, would Hughton even think about changing things up?
The answer is, he may very well not. Brighton's esteemed manager is far from one for knee-jerk reactions. Hughton is a veritable club legend, and an astute tactician, but he is as big an advocate for continuity and stability as Poyet was for drama and glass ceilings (and Hyypia was for being a generally shoddy manager). Change does not come naturally to the Irishman, nor does it come quickly. This isn't to call that trait a flaw; had Hughton listened to a great many Brighton fans, Gross, Propper, and Izquierdo would never have been given the chance they needed to grow into the team, and the Albion would still be relying on the talent of the likes of Jamie Murphy and Rohan Ince. But the unwavering loyalty to the system, and the 80th minute substitutions when a game is in the balance, have proved sources of unrest for many fans at the Amex.
Last season was full of successes, fairytale moments, and images that will be used in Brighton's pre-game club highlights reel for years to come. Being in 8th at the international break, the 3-0 win at West Ham and the 4-1 drubbing of Swansea, beating United at the Amex to secure safety. The 17/18 season will live in the memory of Albion fans for decades. What won't last so long however, is just how poor and predictable the team were at times. Particular lowlights include losses away at Huddersfield and Everton, and that dreadful day at the Hawthorns, becoming the only side Pardew's West Brom were able to beat in his 5 month tenure. For all the great moments and genuinely brilliant play, there were games devoid of all creativity and spark. This cannot all be put down to the 4-4-1-1 formation (a 4-0 loss to Chelsea while Hughton flirted with 3 at the back proves this), but there were many times Brighton found themselves in a trap of their own making.
As a formation, 4-4-1-1 is not widely used. It lacks the striking link-up play of a 4-4-2, the width and utility of a 3-5-2, and the balance and flair of the 4-2-3-1. What it provided for Brighton last year however, was solidity. This solidity was always available to fall back on in times of peril, and saw Gross utilised as a defensive option rather than an offensive one. As a system, 4-4-1-1 did this very effectively and Brighton's defence was rarely overrun, however the system doesn't inherently offer a great deal going forward. The games in which Brighton shone were not because of the flowing football encouraged by an attacking system, they were products of brilliant individual displays backed up by a solid rigidity to fall back on.
Gross's vision and positioning, Murray's clinical finishing and intelligence, Izquierdo's lightning pace and fluid link-up play. These all allowed Brighton to bloom in games, and showed the world what the Seagulls are capable of. But if important players had an off-day, which many often seemed to do away from home, the team struggled severely. The 4-4-1-1 formation didn't provide any inspiration or ideas, and often Brighton would find themselves under a barrage of attacks with little or no outlet, holding on for dear life (Duffy and Dunk didn't lead the charts for blocks and clearances for no reason).
Arguably, this season doesn't have to be the same. Hughton has recruited widely and recruited well, and although it's still early days, it looks like Brighton have a lot of talent, and a lot of depth, in their squad. Players of near enough European standard have been brought in, and the individual quality of the starting XI has moved up a gear or two. If the new arrivals do prove to live up to expectations, it might be high time for Hughton to put a little more faith in his players.
A system that isn't so rigid, or so defensive-minded, could definitely be on the cards. A system that trusts the defensive players to clean up any breakaways, that believes the midfielders will keep hold of the ball and win it back if necessary, that gives the attackers scope to be free and cause the defence all sorts of issues. If that means sacrificing the system that gets the best out of Gross, then so be it. While a properly good player and an exciting attacking option, Gross's lack of pace made him a deflated option away from home, and defenders may well to begin to figure out his signature Cruyff turn, executed with all the speed of an 89th minute Glenn Murray walking back from an offside position. It could now be time to throw off the shackles, and let the players play with freedom.
There are a number of options to choose from; while a return to 4-4-2 is very unlikely, the arrivals of Balogun and Burn could easily facilitate a 3-5-1-1 formation, with Gross dropping to centre midfield and Andone or Locadia taking the second striker role. This would see the Albion dominate the midfield, and have 4 genuinely attacking players linking up with width and pace; in defensive situations, the wingers can drop back to provide stability and transform into a 5-3-2. A 4-2-3-1 formation would see the wingers pushed higher up, and free them from their defensive duties while Propper and Stephens took most of the strain, allowing for fast, width-minded link-up play.
Perhaps the best option however could be a 4-3-3. With an abundance of wingers and centre midfielders, this formation caters to Brighton's strengths. The prospect of Izquierdo and Jahanbakhsh tearing down the wing, Bissouma or Gross driving the ball forward from the centre of the park, Murray or Andone picking up the ball and having options all around them, and a midfield that would not easily be overrun.
However, the Premier League is a tough place as any to bed in new ideas, and the initial transition to a new system could take some time. Football fans are nothing if not impatient. It may be that losing the solidity of the 4-4-1-1 may see Brighton lose what made them tick last season, and results may punish the Albion for daring to have new ideas, but the prospect of attacking football is an exciting one.
Obviously, Hughton is in a far better position than anyone to make the call, and trust in him should be complete. He knows the players inside out, and he knows how to keep this club safe from relegation, But in this league, you have to keep moving to stay afloat, and a refreshing of the ideas that did well for Brighton last year can't be a bad thing. This article will probably age terribly, as Brighton sit pretty in 9th place at Christmas, Hughton winning his second Manager of the Month award amidst praise for his stable and solid Albion side. However, the faith in continuity and the old ways could prove to be fatal in a league that preys on the meek, and so Hughton needs to be wary of clutching on to his 4-4-1-1 comfort blanket for too long; it won't keep him warm forever.
---